Bring Action Air Bounce House to Your Backyard
Action Air-Your First Bounce House Choice
Action Air promises to provide a safe jumping house for your backyard fun. We want your family time to be the best it can be.
We have nearly 20 years of experience in bounce house manufacturing. And we aim to create good bounce houses which enrich family fun and build your kids' physical and social skills. At Action Air bounce house, we pride ourselves on selling top-quality and safe inflatables, including bounce houses and waterslides. Our products are affordable, built tough, and shipped with everything you need to get started: including air blowers, ground stakes, hose, and more. Throw a bouncing fun party in your backyard, and your kids will be absolutely thrilled.
Diverse Applicable Scene, Endless Joy
Spend a Fun Time with Friends
Let's explore every awesome feature of our inflatables! The bounce house can be easily set up and taken down within 3 mins. So, fun can be started anytime. Most of the products are for wet and dry use. Entertainment is full of whole seasons! Children always get bored quickly with new toys. To solve it, we design many multi-function bounce houses to keep them fresh, satisfying their different stage. What else can we explore?
Kiddos like playing games with their friends. In the bounce house, they can enjoy sliding, water sprayed on them, bringing them to the most incredible summer! With water cannons, summer fun becomes more excited! Bouncing, kids jump high and throw the ball into the hoop. Let the kids be the best shooter in your neighborhood.  More features can be explored here. It's all about spending time together, laughing, and having a wonderful time. Break the kiddos away from the screen and develop their social skills!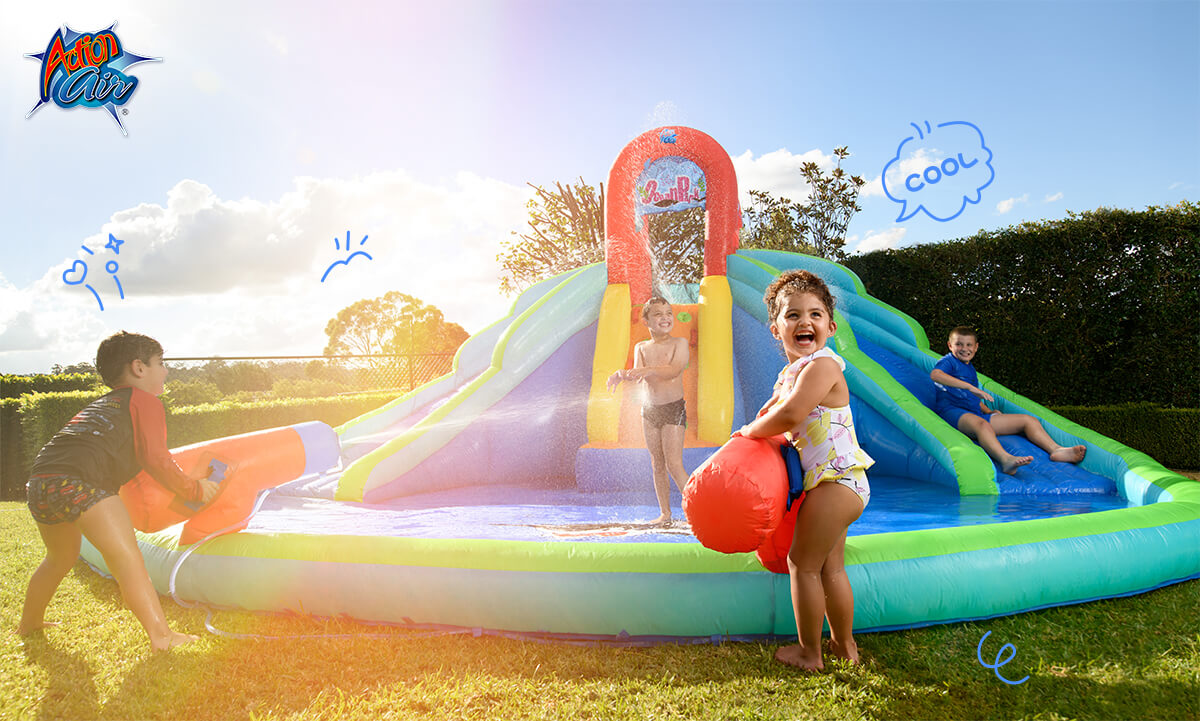 Joy is Filled in Your Backyard
Throwing a birthday party or even an achievement worth celebrating, the bounce house  for your kids or their friends is going to be crazy about it! Shark theme water slide, castle-style jumping houses, and princess-style bounce houses light up the party. You don't need to go to the park outside but in your backyard! Moreover, put it in the backyard and inflate it for 3 minutes of fun in the sun! A mini water park is in your backyard! How cool is that! Kids in the neighborhood come to your backyard. It is a perfect time to make new friends and develop your kid's social skills, right?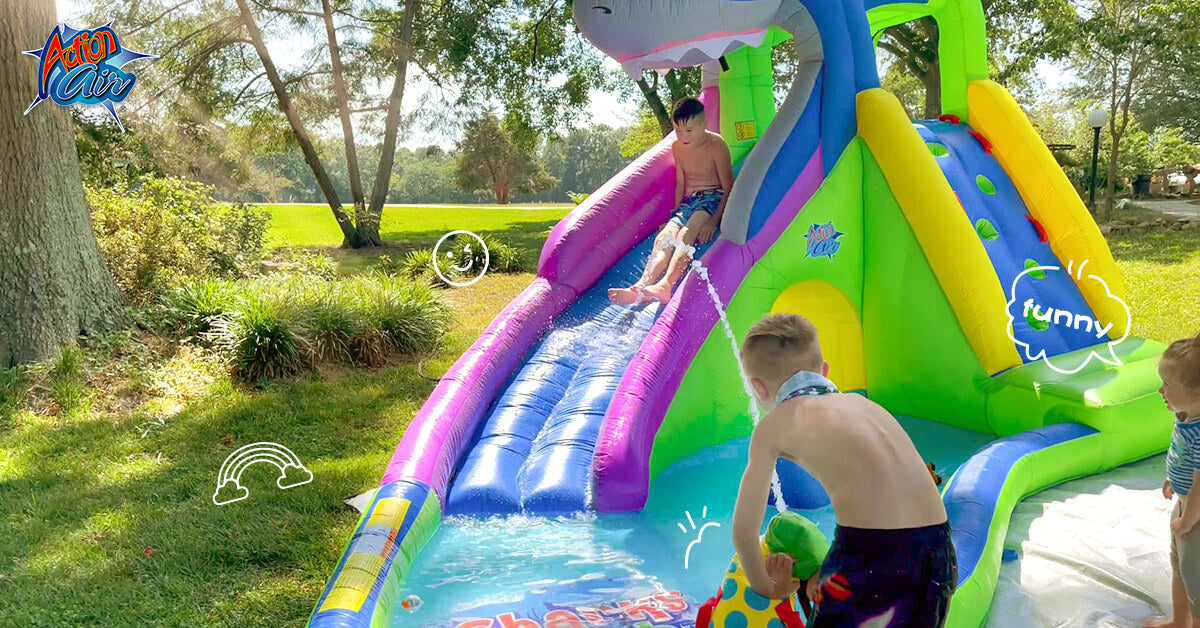 Besides, all the bouncers are safe while sliding, bouncing, and climbing. Heavy-duty puncture-proof material with double to quadruple stitches. Netting enclosure protection walls for safety. And the bounce house is powered by a constant flow electric air blower.
It will provide hours and hours of bouncing fun. Your yard will become the best party spot in the neighborhood. Each of these awesome memories will keep in the kids' minds forever!
Fantastic Bounce House at Incredible Price
Action Air official website has been launched! Saving up to $120 for water slides. And all the products are for free US shipping. Come and create your own account on our website!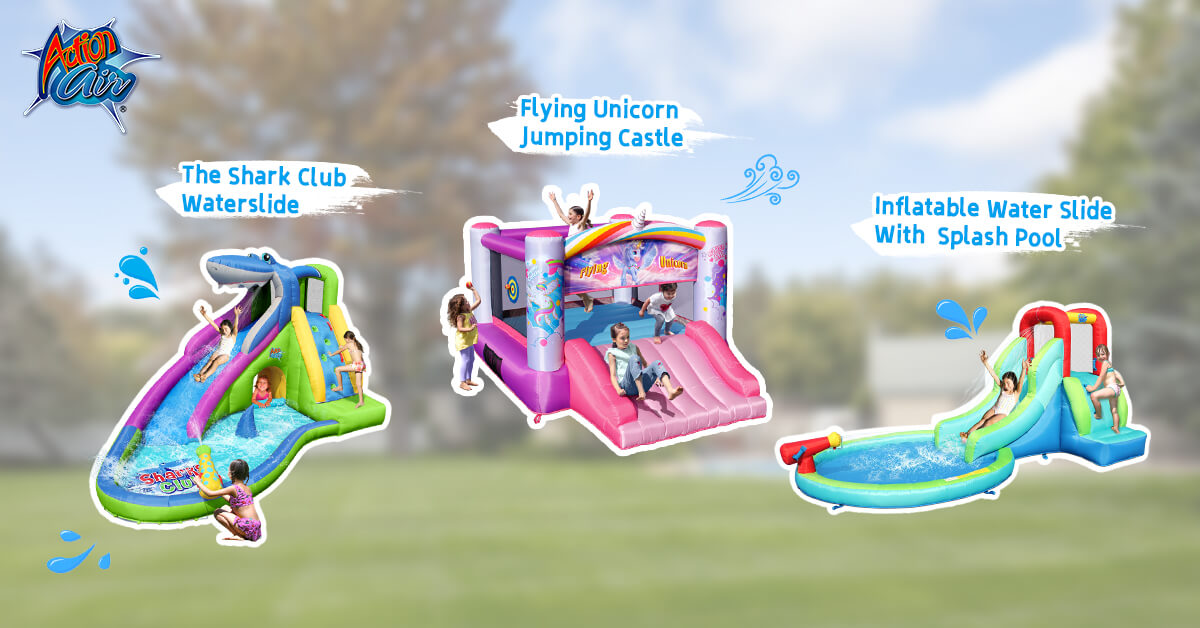 More bounce houses and waterslides can be purchased here!
Come and Join us 
Let the kids slide into the most incredible summer ever before! Summer water fun is all kid's favorite! Most bounce houses come with slides to add extra fun! Cost a little money, but give them a multi-function home use water park!
So why not give your kiddos a very own water park in the backyard and hold the best summer bounce house party in the neighborhood!